LG Bolling and AG McDonnell endorse Jim Gilmore for Senate
Alexandria -- Virginia Lt. Gov. Bill Bolling and Attorney General Bob McDonnell announced today their support for former Gov. Jim Gilmore's candidacy to the U.S. Senate.
"I am pleased to stand with Jim Gilmore in support of his candidacy for the United States Senate. I have known and worked with Jim Gilmore for many years. He is one of the most consistent and principled conservative leaders I have ever known. Jim Gilmore knows what he believes in, and he fights for it, when it's easy and when it's not. That's the kind of leader we need representing us in the United States Senate," declared Bolling.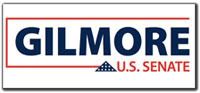 "As our United States Senator, we can count on Jim Gilmore to support our troops and keep American's safe at home by winning the war on terror abroad. And we can count on Jim Gilmore to get our economy moving again by cutting taxes for families and businesses, reigning in wasteful government spending and reducing abusive regulation and litigation that stifle economic growth," added Bolling.
"Many people believe that Mark Warner cannot be beaten, but they are wrong. The differences between Jim Gilmore and Mark Warner on important issues like the war on terror, taxes, spending, illegal immigration and protecting the values Virginians believe are very significant. When the people of Virginia fully understand the differences between these candidates, I am confident that they will vote to elect Jim Gilmore to the Unites States Senate," concluded Bolling.
"Jim Gilmore has the experience and the leadership qualities we need working for us in Washington. When Senator John Warner concludes his service, the United States Senate will lose one of its foremost authorities on foreign policy and national security. It is imperative that the individual Virginia sends to succeed him is someone well versed on these issues, as national security is a critical issue for the people of Virginia and our nation. That individual is Jim Gilmore. Jim Gilmore stands alone in this race in his understanding of national security issues. His experiences as a veteran, as Governor during 9-11, and as Chairman of the highly respected Gilmore Commission, will serve him well as a United States Senator," affirmed McDonnell.
"Jim is also a fiscal conservative, and he will be a tireless advocate for lower taxes, reduced federal spending, and the elimination of excessive government regulations. This is a crucial time in our nation's history. Virginia must elect the most experienced and prepared candidate this November. It is clear that Jim Gilmore is that candidate, and I endorse his candidacy," concluded McDonnell.
"I am grateful for the support of these two distinguished Virginia leaders. I look forward to working with them as we address the vital issues facing the citizens of our Commonwealth and work to revitalize the U.S. economy and promote growth and job creation through controlled spending and permanent federal tax cuts," stated Gilmore.